Product Description
3D Firework Effect Ultrasonic Glass Light Aromatherapy Diffuser for Sparoom Relaxation and Healing Overview
Starry, Firework look you'll never get tired of. Use it as a night light in your room! 100ml capacity and bamboo wood grain designed base with a slip-proof bottom. Perfect for relaxation, yoga, and sleep! Enjoy the health benefits of essential oils and the beauty of the night glow.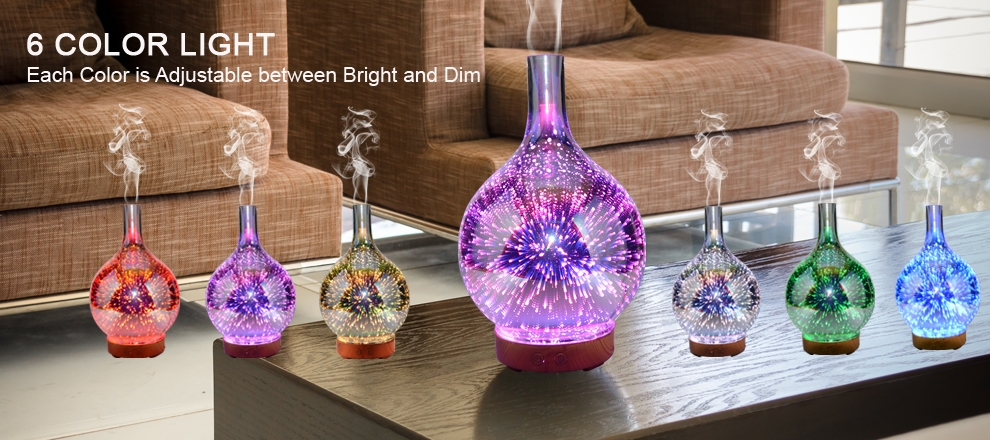 Aroma Diffuser Functions and Features
Magical 3D Fireworks Design with 7 Color Changing: Exquisite outlook with 7 color changing will highlight your household decoration. It is a new model of the combination of electrical and decorative functions.Truly shows off the high-quality design with its unique 3D Fireworks effect.
Sufficient diffusion: Ultrasonic vibrations silently create an ultra-fine mist, delivering maximum humidifying. It helps you reap the benefits of essential oil thoroughly.
Relax and Treat Your Body: Relax and enjoy the therapeutic benefits of a steady essential oil mist that fills the air. Use with different essential oils to relax, relieve stress, and fight allergy, cold or flu symptoms.
Quiet and Peaceful: The choice of light sleeper.This diffuser works very quietly so that you can be intoxicated in the charming aroma without disruption or noise pollution.
Safe and Convenient: Auto Shut-Off and Ultrasonic Technology keeps you from worrying about anything-just relax and enjoy. Perfect to place it in your home, home office, bedroom or kid's room, or you can also use it for more business-oriented applications such as in a yoga studio,spa,or hotel front desk area.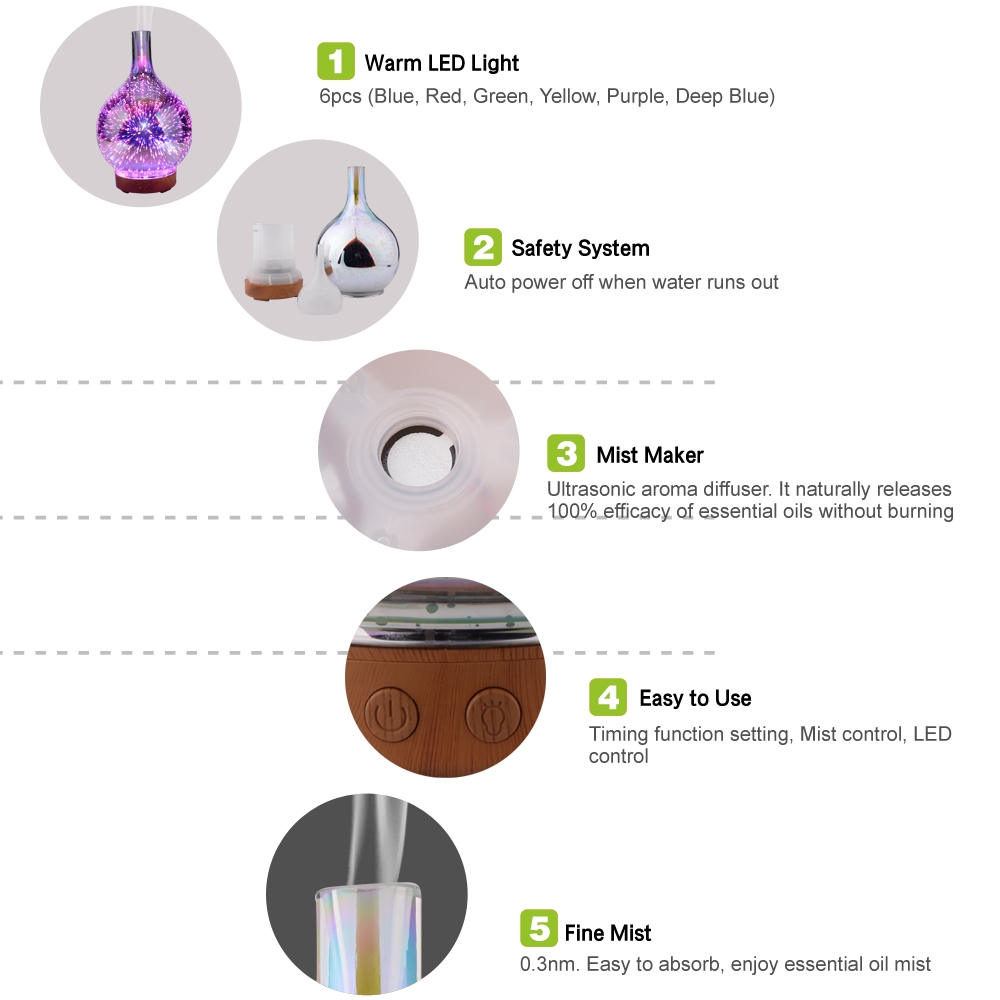 Aroma Diffuser Specification
Product size: 145mm×230mm
Weight: 800g
Material: glass cover and PP
Container Capacity: 100ML
Operating time: Spray volume 4 hours ± 1 hour
Input voltage: 100-240V
Output voltage: DC 24V
Power: 12W
LED: 6 full-color LED lights with 16 color gradients
Vibration frequency:3MHz (3 megahertz.3 million times /s)Internationally,the radio frequency is defined as a high frequency by Telecommunication Union(HF): 3-30 megahertz (MHZ)
Essential Oil Diffuser Applications
1. Give yourself an aromatherapy essential oil diffuser and begin to live a healthy life.
2. Fill your space with lovely fragrance and remove doggy odors and smoky smells.
3. Add more moisture to your skin.
4. Portable for Home, Yoga, Office, Spa, Bedroom, Baby Room. Perfect gift idea for family and friends who love aromatherapy or can benefit from Aromatherapy healing.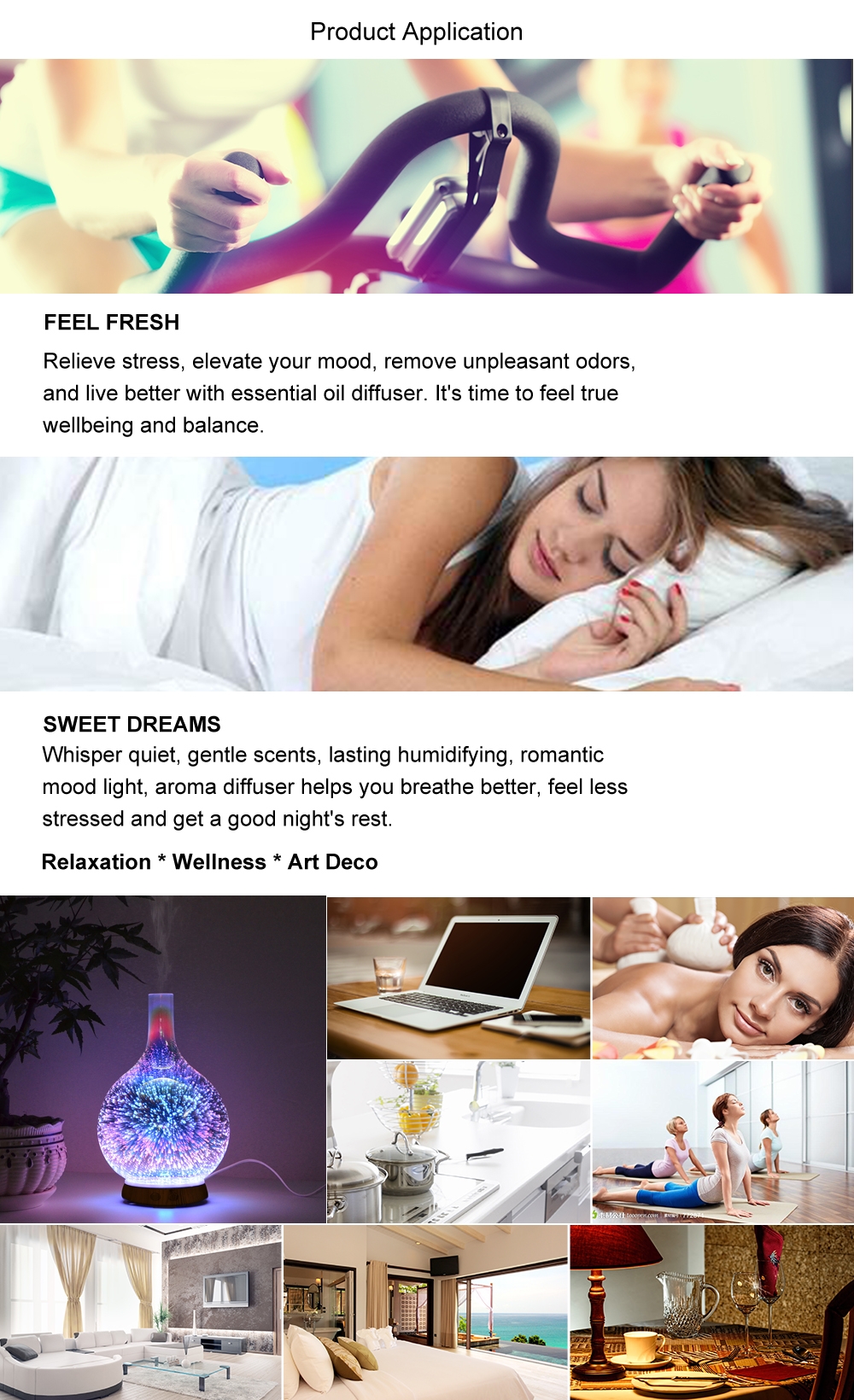 Additional Information
| | |
| --- | --- |
| SKU | tm_PR-23 |
| Product length | 6 |
| Product Width | 5.7 |
| Product height | 9 |
| Size | No |
| Color | White |
Shipping
We ship nearly everywhere in Canada and USA, but if you want to ship anywhere else then visit our contact us page or email at Support@ShoppingZonePlus.com and contact us to arrange shipping to your country.
You can contact us regarding a specific product using 'ASK PRODUCT QUESTION' button on the product page. Provide us your zip code, city and country to calculate the exact shipping cost.
You can see estimated shipping cost in checkpout process after you add your address.
Do not hesitate to contact us regarding any of our product. We try to ship anywhere in the world from our International warehouses.
To ensure that orders being sent to rural route addresses and PO Boxes get to their proper destination, please include a physical street address, highway number and/or an emergency number when you place your order. Extra fees would be charged if the address is wrong.