Product Description
300ml Auto-sensing Ultrasonic Wood Grain Essential Oil Diffuser with Intelligent Microwave Induction Overview
Size: 16.3*12.5cm
Capacity: 300ML
Built-in Automatic Microwave Sensor, the capability of 360 degrees induction, can turn on when people come into induction area and auto stop atomizing when people leave.Combined with the function of Air Humidifier, Air Purifier, Aroma Diffuser and Colorful LED Night Light. It can increase the humidity of air, reduce dust and moisturize your skin. Adding several drops of oils into it, it will fill your space with the lovely fragrance. Perfect fit for Baby Bedroom, Office, Home, Study Yoga Spa.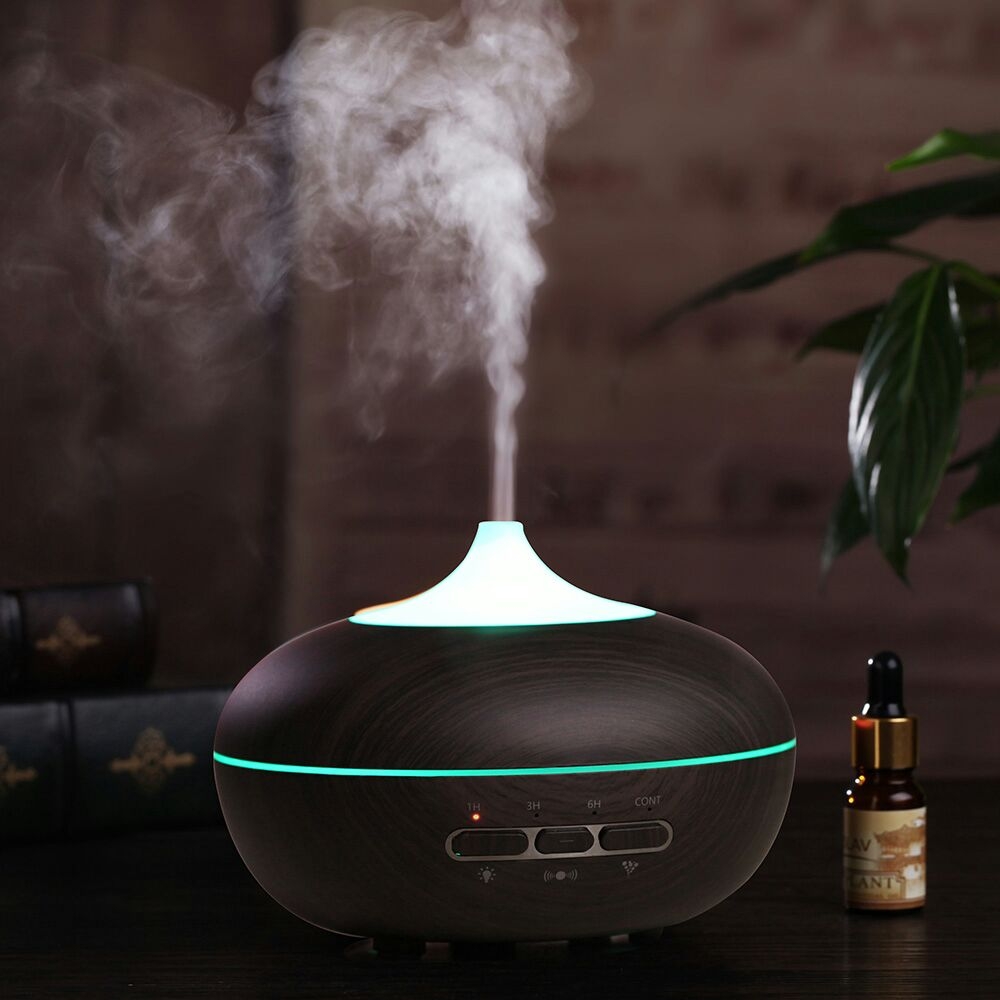 Aroma Diffuser Functions and Features
Excelvan Proprietary Technology: Auto-sensing mode with automatic microwave sensor switch. For auto switch, it will run continuously as long as you are present. If no activity detected for 6-7 minutes, the system will turn off automatically and stay in holding status; Normal switch-control mode.
Seven Colors Change: Adjustable changing seven colors optional gradually with 15 kinds of lighting effects, match your mood or decoration of the room freely. Create a calming, relaxing and pleasure environment for you.
Four Timer Options and Security: With the capacity of 300ml, it can work up for 7-9 hours. Four timing mode: 1H/3H/6H/CONTINUE. 2.4MHz ultrasonic frequency and 14db quiet design. Auto power off due to water shortage automatic protection with adjustable high frequency atomization amount.
Unique Light Wood Grain Design: This Excelvan aroma diffuser is coated with wood grain, which makes it looks visually appealing, simple and stylish. The best choice to purify the air and keep you away from virus.
Multifunctional: Aromatherapy diffuser adopts ultrasonic technology, this diffuser is extremely quiet when working. It gives out ultra fine and smooth mist which can soften and moisten dry and chapped skin in winter. It also helps you breathe better when your are sleeping with air conditioner on.
Aroma Diffuser Specification
Material: PP/ABS/PC
Power supply: AC100-240V 50.60HZ; DC24V 650MA
Cord lengh 170CM
Consumption 9W
Timer 1H/3H/6H/CONT
Capacity 300ML
LED color: 7 colors (steady on/changing color)
Intelligent Induction: turning induction, power-off protection for water shortage, automatic microwave sensor switch, adjustment of mist amount.
Unit Weight: 0.6KG
Available colors: Dark wood grain, light wood grain
Automatic Microwave Sensor Function:
Press AUTO button to activate the human body sensor.
When the machine detect movement of the human body, 4 indicator lihght and start the aroma therapy spray function;
within 7 minutes, if the machine doesn detect the human body to mive again, will suspend the spray, the 4 lights flashing;
LED light is not affected, the atmosphere is independent control.
Function Keys:
MIST Choose the time from 1 hour/3 hours/6 hours/steady on.
AUTO : Activate the human body sensor.
LIGHT: Turn on the LED light, the color will change automatically.Press the Light button again to freeze the color you want.
Press again to change another color. Each color is adjustable between Bright and Dim.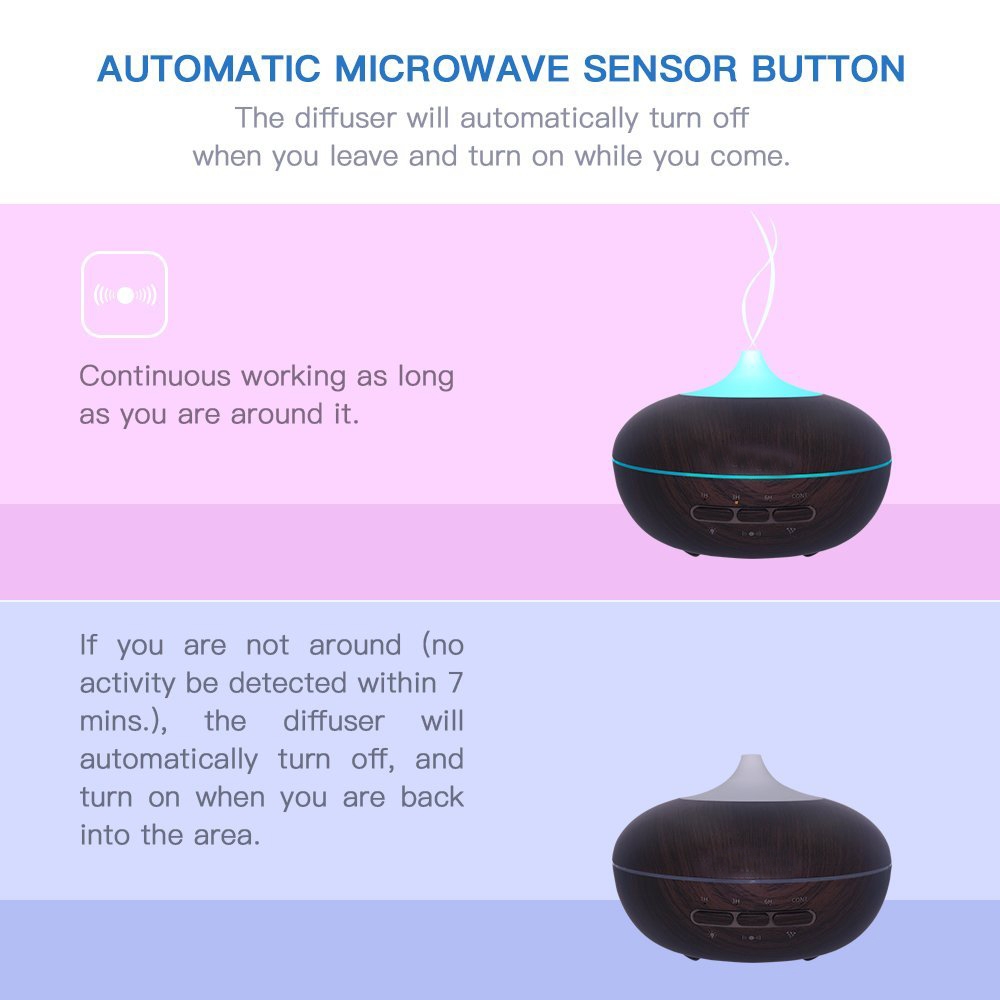 Essential Oil Diffuser Applications
1. Give yourself an aromatherapy essential oil diffuser and begin to live a healthy life.
2. Fill your space with lovely fragrance and remove doggy odors and smoky smells.
3. Add more moisture to your skin.
4. Portable for Home, Yoga, Office, Spa, Bedroom, Baby Room. Perfect gift idea for family and friends who love aromatherapy or can benefit from Aromatherapy healing.
Auto-sensing Ultrasonic Wood Grain Essential Oil Diffuser PR-20 Colorful LED Lights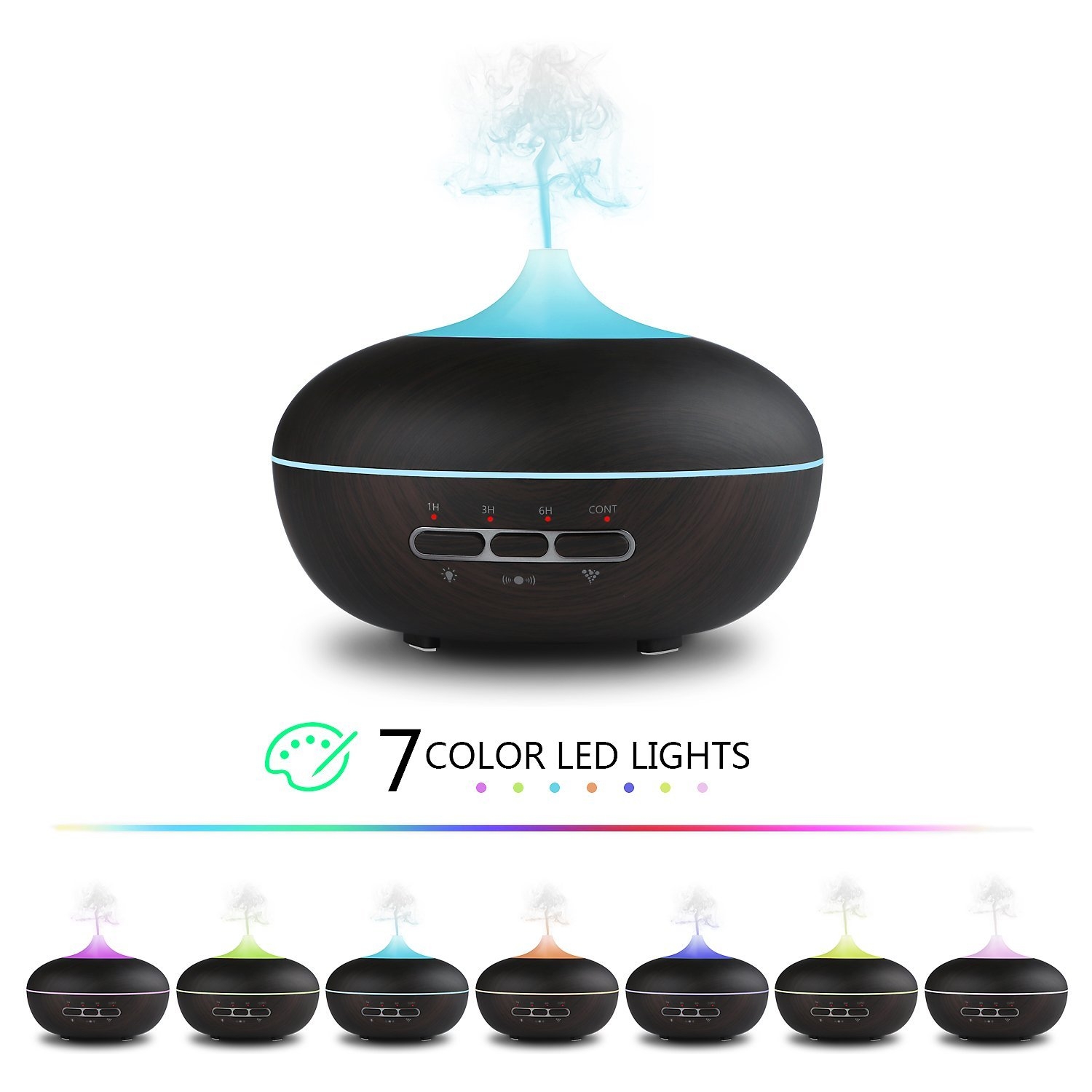 Additional Information
| | |
| --- | --- |
| SKU | tm_PR-20 |
| Product length | 6.4 |
| Product Width | 5.7 |
| Product height | 5.5 |
| Size | No |
| Color | Brown |
Shipping
We ship nearly everywhere in Canada and USA, but if you want to ship anywhere else then visit our contact us page or email at Support@ShoppingZonePlus.com and contact us to arrange shipping to your country.
You can contact us regarding a specific product using 'ASK PRODUCT QUESTION' button on the product page. Provide us your zip code, city and country to calculate the exact shipping cost.
You can see estimated shipping cost in checkpout process after you add your address.
Do not hesitate to contact us regarding any of our product. We try to ship anywhere in the world from our International warehouses.
To ensure that orders being sent to rural route addresses and PO Boxes get to their proper destination, please include a physical street address, highway number and/or an emergency number when you place your order. Extra fees would be charged if the address is wrong.