Product Description
300ml Wood Grain Essential Oil / Aromatherapy Diffuser with Mini Vase Tulip Style for Office Overview
Wood Grain Essential Oil Diffuser PB-1218S is a tulip flower-shaped diffuser that is BPA-free and transforms water and essential oils into a cool mist-preserving health benefits from the oils while humidifying the room.
Capacity:300ML
Mist output: Around 50-70ml/h
Timer settings:1H,3H,6H/ON
Prodcut Dimensions: 165*208mm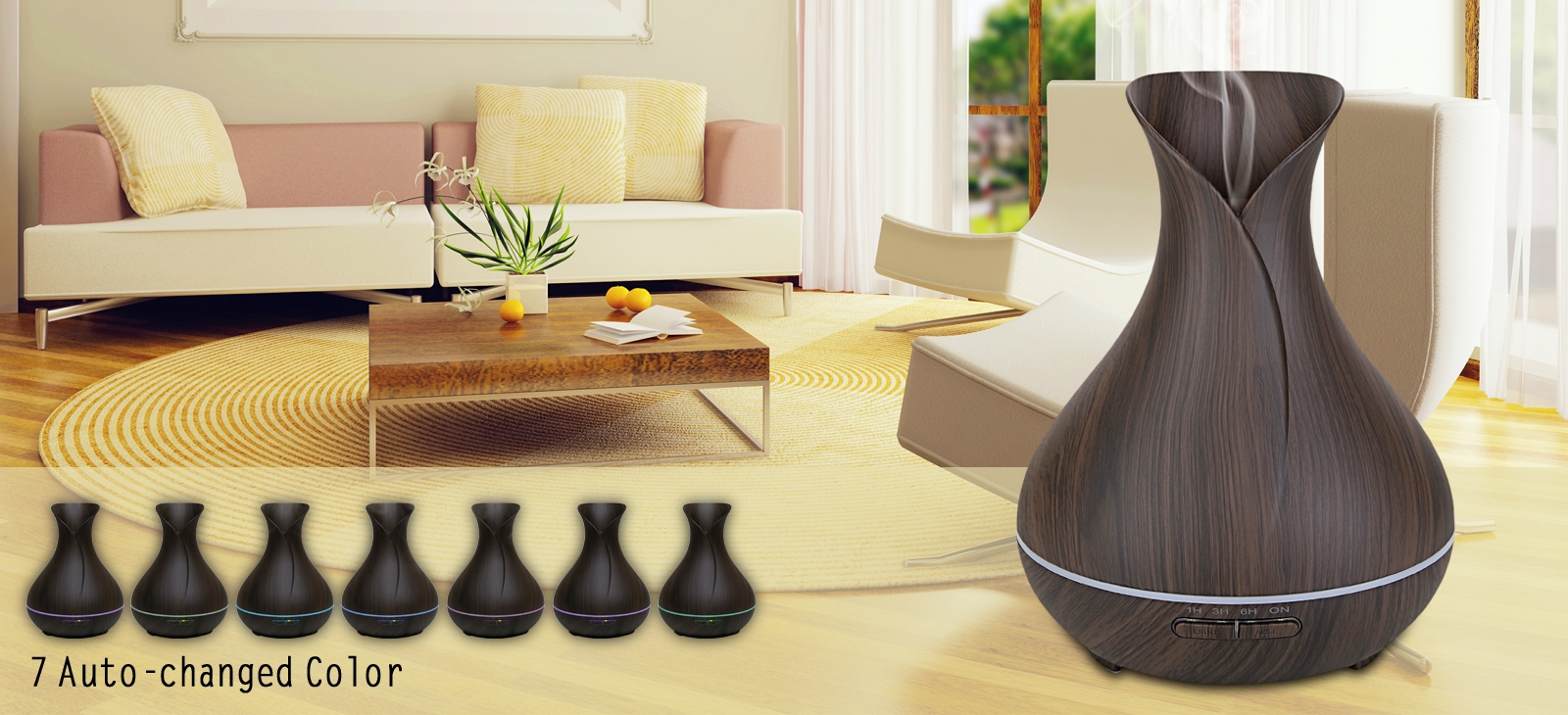 Aroma Diffuser Features
Classic Design: Sleek tulip style with wood grain finish meets modern function in this beautiful,practical diffuser. Designed to be a perfect decorative piece that fits in with any decor.
Timed Setting and Mist Control:4 timed setting options: 1 h/3 h/6 h or continuous mode. Press the Mist button for 2 seconds, one beep for strong mist with 8h working time, two for weak mist with 12h working time. Select a mode, relaxing and security environment with Waterless Auto Shut-Off Function.
300ML Diffuser with Ultrasonic Technology:Convenient capacity (300ml reservoir), enables the unit to run for several hours without refilling. Adopted ultrasonic technology, the 300ml oil diffuser is extremely quiet when working, studying or sleeping.
7 Rotating Lights Change: white, green, purple, pink, blue, yellow and red. (The diffuser can run with no lights on) The color can be cycled through or set it to one fixed color. Each color has two light options: dim and brighter. With 7 changing LED lights, the diffuser can be used anytime, day or night,to suit any mood.
5 in 1 Multifunctions: It is more than diffuser/vaporiser and humidifier, as it also can be used as a ioniser, air purifier and night lamp. Adding several essential oils into the water, the scent diffuser will release lovely aroma and mist to refresh the air quality.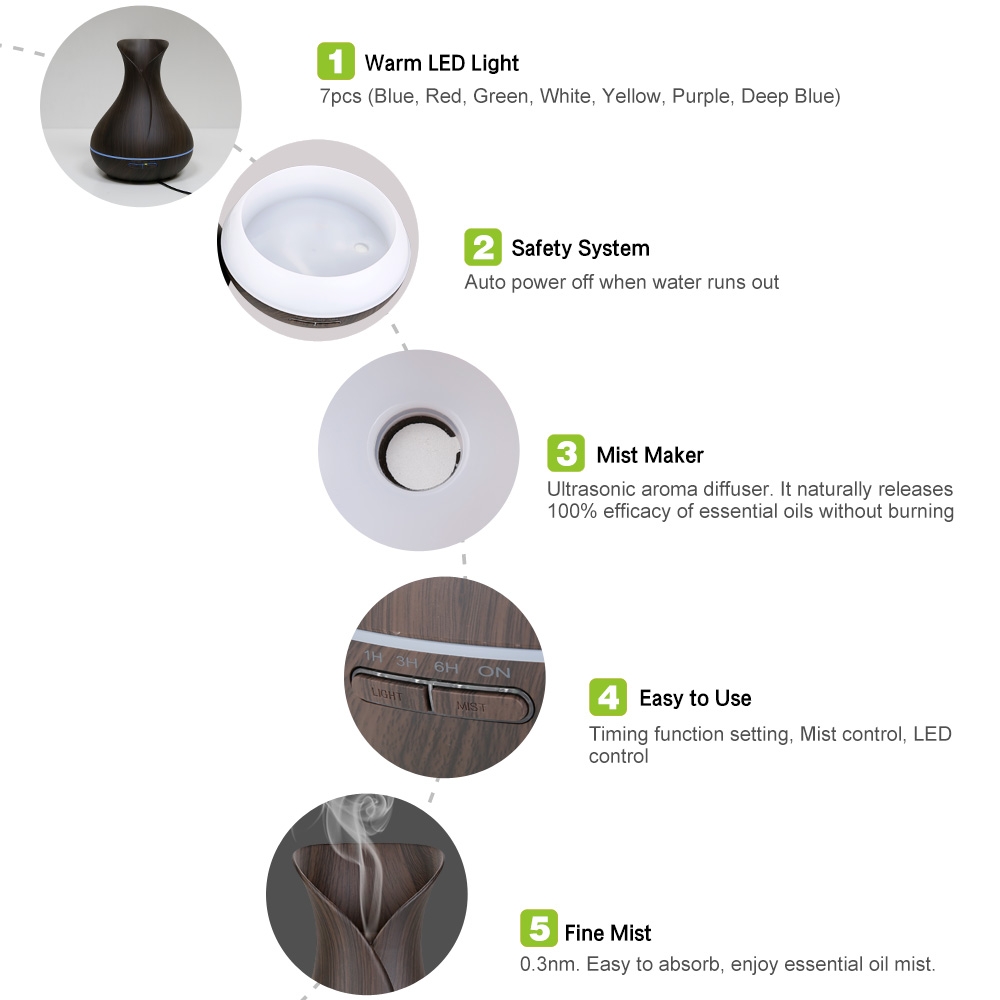 Aroma Diffuser Specification
Capacity:300ML
Power supply: DC24V 600mA
Power consumption: Max 13W
Mist output: Around 50-70ml/h
Applicable Area: Around 40-60㎡
Ultrasonic Rate: 2.45MHZ
Timer settings:1H,3H,6H/ON
Max time: 7-8hours
Material:ABS+PP
Prodcut Dimensions:165*208mm
Wood Essential Oil Diffuser Applications
Give yourself an aromatherapy essential oil diffuser and begin to live a healthy life.
Fill your space with lovely fragrance and remove doggy odors and smoky smells.
Add more moisture to your skin.
Portable for Home, Yoga, Office, Spa, Bedroom, Baby Room. Perfect gift idea for family and friends who love aromatherapy or can benefit from Aromatherapy healing.
Use aroma diffuser with different essential oils
For Aromatherapy: Simply fill the aroam diffuser with oils. The aroma diffuser transforms water and essential oils into a cool mist - preserving health benefits from the oils while humidifying the room.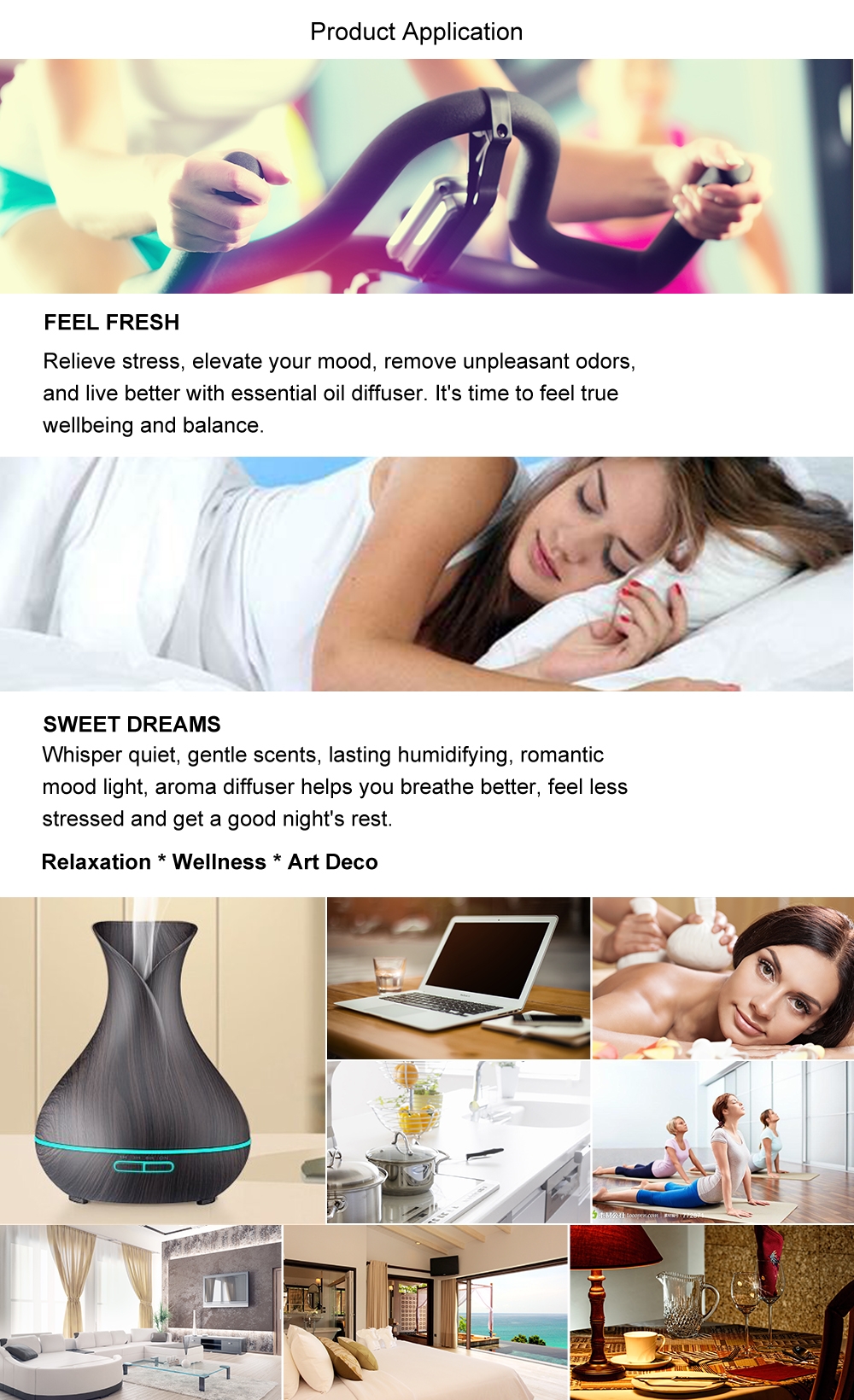 Additional Information
| | |
| --- | --- |
| SKU | tm_PB-1218S |
| Product length | 6.4 |
| Product Width | 5.7 |
| Product height | 7.8 |
| Size | No |
| Color | Brown |
Shipping
We ship nearly everywhere in Canada and USA, but if you want to ship anywhere else then visit our contact us page or email at Support@ShoppingZonePlus.com and contact us to arrange shipping to your country.
You can contact us regarding a specific product using 'ASK PRODUCT QUESTION' button on the product page. Provide us your zip code, city and country to calculate the exact shipping cost.
You can see estimated shipping cost in checkpout process after you add your address.
Do not hesitate to contact us regarding any of our product. We try to ship anywhere in the world from our International warehouses.
To ensure that orders being sent to rural route addresses and PO Boxes get to their proper destination, please include a physical street address, highway number and/or an emergency number when you place your order. Extra fees would be charged if the address is wrong.